Certification Testing Solutions
Certify on Your Own Clock
Our testing solutions are designed to accelerate the EMV certification process and help you quickly deliver your solutions to the market.
CertifyNow – Fully Integrated
The CertifyNow self-test platform is new certification technology that accelerates card brand EMV certification for our developer partners by offering 24/7 access to automated test tools and certification management resources.
It is an optimal online tool for any developer, integrated software vendor (ISV), gateway or acquirer who wants to make the payment terminal testing and certification process automated, user-friendly, scalable and web-based.
The CertifyNow self-test platform is comprised of several building blocks:
Certification management framework:
Certification project management
Test case and test plan management
Real-time network and host simulation web portal:
Detailed transaction viewer
Knowledge portal and help center
Brand validation platform:
Card brand terminal test plans
Network interface validation test plans
Consolidated ICS form for all brands
Integration with UL brand test tool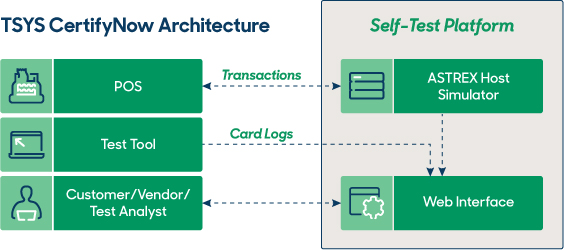 Parse Tool – Semi-integrated
This semi-integrated certification tool not only accommodates EMV certifications, but has been built to support all of your TSYS projects. The tool allows you to pretest at will, making your experience more efficient and extremely convenient.
The TSYS Parse Tool empowers VAR partners to:
Test a full range of authorization and response scenarios
Eliminate errors and gain productivity with real-time results
Complete mag-stripe development in hours rather than days
Significantly reduce EMV certification steps and time
Reduce overall implementation costs
Increase your speed to market
Our EMV certification tools allow you to validate your payment ecosystem in a familiar, user-friendly workspace that allows for a true unattended testing environment – making it even easier to certify your payment solution.
Quality Testing for Quick Delivery
Improve the quality, efficiency and speed of your card and payment testing, with the peace of mind that your POS solutions will qualify for certification. Gain an edge on the competition by offering your merchants a quick-to-market payment solution that will enhance their customers' overall experience.
Becoming certified can provide opportunities to help you expand your merchant base, improve retention and provide secure solutions. This can potentially translate into increased revenue and a greater partnership value for you.
We understand the cost, time and complexity you're facing. That's why when you are certifying your payment solutions with us, you'll pay considerably less than with other payment processors. We have your interests in mind – not your wallets.